ClinStorage AB and VizzDAT AB are joining forces to present BAM – Biobank Data Manager. BAM is the first app and cloud-based, platform independent LIMS application for Biobanks worldwide accompanying your sample collection/storage in your mobile device or tablet. BAM includes logging and storing samples at ClinStorage in given positions according to the real-life freezer structure as well as providing an Electronic Health Record (EHR) and a Case Report Form (CRF) with the ability to collect patient and clinical data. The application format makes it ideal for the smaller scale biobank utilizing smartphone and tablet devices' capabilities such as barcode scanning (1D and 2D) and GPS/location services.
The combined ClinStorage/VizzDAT solution provides a complete and coherent approach for integrating digital information with physical handling of samples and products, ranging from study design, protocol development, reporting, ordering and retrieval to distribution and storage of Investigational Medicinal Products (IMP) to the physical establishing of biobanking.
ClinStorage and VizzDAT, working seamlessly, are committed to deliver a complete solution for biobanking and data as outlined schematically: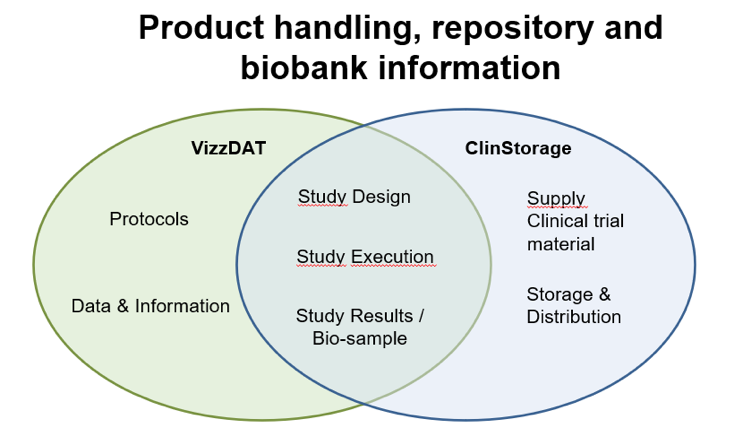 ClinStorage AB
ClinStorage is a one-stop-shop for researchers and Pharma/Biotech companies' entire need regarding physical handling of samples and products; from starting materials to clinical trial materials and samples generated at clinical studies suitable for biobanking purposes. Our mission is to provide cost-effective and compliant handling and storage of biobank samples, with full grasp of the unique requirements of biobanking. Visit clinstorage.se for more information or contact sven.jacobsson@clinstorage.se.
VizzDAT AB
The background of VizzDAT is the world of biobanking in the EU, founded in 2018 with the mission to enable medical research and healthcare organizations to benefit from the latest cutting edge information technology by providing flexible solutions; from data collection to processing, analysis and visualization. Some of the world's leading researchers within medicine are using our services. Visit vizzdat.com for more information or contact loreana.norlin@vizzdat.com.